Does your retail space need an update?
With the ever-growing fear that online competitors will steal your customers, it can be a daunting time to invest in updating your retail property. But if you are to stand any chance of competing then now is the perfect time to invest.
Despite the fact that increasing numbers of big name retailers are closing their stores, there is still hope for brick and mortar locations. Customers are still committed to buying goods from physical stores. However, they are becoming a little more demanding of their retail experience.
It is a complex new territory that retailers now have to navigate. And, only by ensuring a pleasurable experience for customers can you hope to compete. Updating your physical retail space can spell the difference between attracting traffic and losing them to your competitors.
Do you need to update your retail space?
Take a good look around. Do you have a dated floor plan, with crowded, overstocked layouts? Do you have limited wheelchair and pushchair access and narrow routes that block traffic and customer flow? Perhaps your floor coverings have seen better days. Are you suffering from a congested checkout area, a lack of privacy and poor lighting in
the changing areas? All of these issues are sure signs that an update is needed, and a pretty drastic one too. These problems do not make for a positive shopping experience, and if they're not already doing so, customers will soon start shopping elsewhere.
An attractive exterior is what beckons your customers to enter. So if your walk-in traffic is declining it could be that your retail space is lacking the necessary visual stimulation to get customers through the door. People don't want to waste their time on a business that cares little for its customers. A shabby exterior says all too clearly that the business does not care.
Customers talk with their feet. You'll know that the customer experience you're offering is not up to scratch if you see a decline in foot fall. A shabby, messy or downright confusing experience may be to blame. So, don't let this be the reason your customers walk on by.
Make the changes
It's a big investment. But a revamp is the perfect opportunity to enhance your business. Imagine the impact of a bright, open and spacious floor plan – with stylish
shelving and an ambience of comfort and relaxation. This translates into a better customer experience. It will improve customer/staff interaction, increase the visibility of your products and encourage buyers to the till.
Know your customers
The key to getting your renovation right and giving a positive customer experience is in understanding your demographic. Are your customers millennials, parents or
seniors? Consider the type of décor that would appeal to their tastes and sensibilities. Millennials are more likely to feel at home in an industrial style interior for instance, whereas older customers may feel more comfortable in a more traditional (but up-to-date) interior. So, create an environment that attracts the customers you want.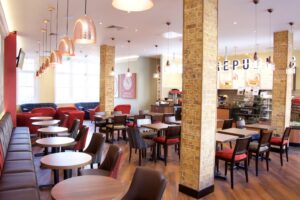 Find new ways to stay on top by continually assessing the potential of the property for improvements. Unappealing, boring and ineffective décor, layout and displays will end up costing you your customers.
Understand the current retail trends in your market and adapt your space accordingly. Measure and make the necessary changes to improve flow and layout of your space, making it more attractive, accessible and accommodating for your customers. Ensure lighting is good and that store fixtures like tables, display cases and shelving are dynamic and interesting.
It's a worry for all retail businesses with brick and mortar space that the traditional store format ison the decline, so retail business owners need to be proactive if they're not to fall victim to the changing retail landscape. It is the innovative stores, those that embrace the needs of their customers, offer an exciting and novel retail experience and stay up-to-date with the favoured visual aesthetics of their industry, that will survive.
Photos courtesy of: Imago Interiors