Fire safety is paramount in all public and private sector buildings. That's why you need an experienced Contractor who is well versed in fire strategy, both for new build and legacy developments.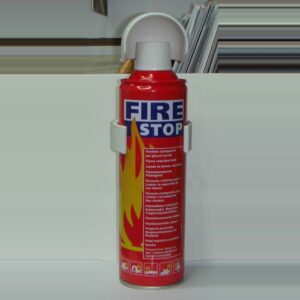 A firestop is a fire protection system made of various components used to seal openings and joints in fire-resistance rated wall or floor assemblies. For penetrating cables, these can also be called as Multi Cable Transits. Firestops are designed to restore the continuous fire-resistance of wall or floor assemblies, impeding the spread of fire by filling the openings in them with fire-resistant materials
Vista Refurbishment have vast experience in fire stopping projects and work alongside several registered experts to ensure peace of mind for all our clients.  Some of the works carried out are as follows;
Fire Protection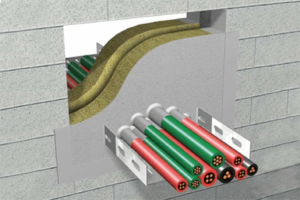 Check integrity of walls and ceiling makeup to fire protected corridors, walls and ceilings, even in tenanted properties. Highlight areas of failure and rectify installations or upgrade to provide protection to current standards. Appropriately rated fire compartmentation enables the spread of the fire to be controlled in the event of a fire.
Check integrity of fire doors, frames, seals and ironmongery, highlight areas of failure and rectify or upgrade to ensure door sets provide appropriate protection dependent on location. Includes the installation of self-closers if required. Appropriately rated doors helps prevent the spread of fire and smoke within designed timeframes in the event of a fire.
Fire Stopping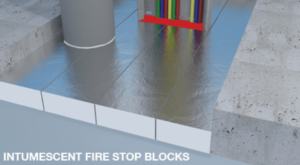 Check and inspect fire stopping to cavities, penetrations, fittings and cavities. Highlight areas of failure and upgrade/rectify to ensure that all fire stopping barriers would be functional to their designed rating in the event of a fire preventing the spread of flame prematurely.
Emergency Lighting
The testing, inspection and installation of existing and new emergency lighting installations. This enables people inside the building to be able to access fire escapes in the event of a power loss
Fire Detection
The testing, inspection and installation of fire detection systems. These help detect a fire, or smoke and can be used not only to identify a fire, or smoke from a fire but in turn can be used to trigger other life saving devices such as openable vents, mechanical extraction or be connected directly to the emergency services
Smoke Protection
We also specialise in the supply, installation and design of mechanical ventilation and extraction systems, openable vents and their control systems. Smoke is often the biggest danger to life during a fire, especially when the main escape staircase is rendered unusable. The installation of a properly designed smoke protection system ensures that smoke entering the main escape staircase is removed via an extraction system enabling people within the building to safely escape.
Refuge Points
Vista Refurbishment are also able to supply, test and install a refuge point system. This enables less mobile people within the building to be evacuated when they are unable to use the stairs.
Experts in Fire Strategy
Vista work alongside registered fire safety inspectors, who are able to inspect, report and advise of a fire strategy enabling the highlighting of areas where a building is non-compliant and needs improving. This enables landlords to satisfy their obligations in providing their tenants with a safe building and enables all occupants to have the required levels of protection of themselves and their property.
Competent Contractors
We work alongside registered inspectors and are able to provide our customers piece of mind that works carried out are to the required standards, and inspected and certified to be to those standards.
If you have any concerns with regard to the safety of your building, whether recently completed or legacy works, please contact us to discuss your options.