5 easy steps to a seamless office refurbishment
As one of the biggest expenses in the history of your business, you'll want to make sure you're fully prepared for your office refurbishment, so your business can continue to prosper for many years to come. But you also want as little intrusion into the day-to-day running as possible. So, how can you ensure the whole thing runs smoothly?
1.   Why are you refurbishing?
Your first step will be to consider why you are doing the refurbishment in the first place.  You may have gone through this process prior to the decision to carry out a refurb, but it's worth thinking about again, as this will influence the whole project.
Perhaps you need to make more space to expand the business, or you need to make changes due to health & safety recommendations? Maybe you want to bring the office
up-to-date to create a better working environment and boost morale and productivity. Perhaps you wish to improve the business brand and image to bring in new clients? Make a wish list of all the things you'd like to improve upon. At this stage you should also have a clear idea of your budget.
2.   When will it happen?
When do you need the refurb finished? Is there a specific event that you wish the refurb to be completed by? Once you know the answers to these questions you can agree timings with your contractor. A detailed plan with key milestones and a detailed project plan will make it more likely that your new office is delivered on time and on budget.
3.   Who will be responsible?
To ensure your refurb goes off without a hitch, it's important that you appoint a dedicated internal project leader and team, which will include team members from various departments. These will be individuals such as the facilities manager, who will ensure that interruptions to the business during the refurb process are minimal. They are
 also important for knowing health and safety, special needs or ergonomic requirements. Then, the finance department will set budgets for the refurbishment and balance the costs. And the office manager will be aware of staff teams and the space needed so will be more aware of the changes needed. The marketing department can help when it comes to branding and logos.
4.   What is going to change?
Make sure you know exactly what is changing and what is going where. This is where the help of an office designer will come in useful. Consider everything; colour schemes and materials to collaboration space, workflows and departmental relationships. What is the new office going to look like in the flesh?
What works in the current office layout, and what doesn't? What are the physical limitations, and your aspirations? What's the long-term business strategy? Is there room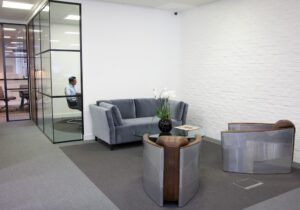 for new technology? Analyse your workspace and workflows, seek staff opinions, and look into costs. What are the business goals and needs and how will this be reflected in the new layout?
Of course, once your refurb is complete you'll need new furniture. Think about this before the big day – how many office desks will you need? Consider the furniture you'll need for open spaces where informal meetings will happen, for instance, or storage units and desk privacy screens, a welcoming reception desk and seating, boardroom tables and chairs for the meeting room, staff room furniture and appliances. These are all the things you need to consider before the refurbishment of your new office space takes place.
5.   How will the refurb happen?
You should make a final check of your needs before committing to start the project. You can then be assured that you've taken everything into account and you've got everything under control.
Once the refurbishment is underway, it's important for your business that you keep a watchful eye on productivity. Your contractor can work with you to ensure that any disruptive,
noisy works and bulky deliveries are scheduled outside of working hours. And keep the whole office informed of what is going on and when so that there are no nasty surprises when staff turn up.
It's a big commitment, and is likely to be an expensive one, refurbishing your office space. But take the time to follow these steps, knowing exactly what will change and when, working closely with us to ensure minimum disruption to your business, and you will experience a stress-free refurb that will maximise your company's productivity and truly get the best out of your business.
Images courtesy of our client: Imago Interiors